LOCAL SET, LOCAL WARRANTY, FROM SG DISTRIBUTOR!!!
------------------------------------------------------------------------------------------------------------------------------------------------------------------------------------------
#1 Mom and Physician recommended breast pump brand!!
Medela breast pumps use only a few parts, making it simple to assemble and clean. Note that all our breast pumps we carry are local sets obtained Direct from authorized Singapore distributor and come with standard 2-YEAR Singapore warranty Breast pumps are mechanical devices that do occasionally malfunction due to normal wear and tear, so having access to local repair shop is absolutely essential!
Freestyle Flex is an electric breast pump designed to fit into your life: its light, compact design and USB-chargeable battery give you the flexibility to express wherever and whenever you like, with no compromise on pumping performance.
Double pumping with Freestyle Flex yields more milk in less time than pumping from each breast in turn
2-phase expression technology which mimics babies' natural sucking rhythm - fast at first to stimulate milk flow, then slower to mimic feeding for a more comfortable and efficient pump
Overflow protection (closed system) prevents breast milk entering the tubing and motor
Compact, light and portable breast pump, easy to carry wherever you go
Built-in rechargeable battery so you can express anywhere - no need to search for a plug
USB port for powering up on the go
Connects to free MyMedela app – download and register to track pumping progress
Medela PersonalFit Flex breast shields for your comfort and increased milk flow
Why we love this pump:
Can express both breasts at the same time
Can run on rechargeable battery
Very comprehensive speed/vacuum adjustments
Cool-looking digital display
Pumping timer
Memory button
Feature & Benefits:
Compact and light: Easy to carry & fits in the palm of your hand. Weighs less than 1 pound
Closed system with Overflow Protection: Prevents your breast milk from entering the tubing and motor
Backlit touchscreen: Makes pumping at night easier than ever
PersonalFit Flex Breast Shields: Adapt to your breast shape for personalized comfort and 11.8% faster milk flow compared to traditional 90° breast shield. (two sizes included)
Portable microfiber carry bag designed specifically for your Freestyle Flex Breast Pump parts: Provides convenient transportation and organization
Built-in, USB-chargeable* battery for convenient pumping anywhere you are: 2-hour battery life between charges
Connectivity to MyMedela App: Allows you to create a personalized profile tailored to your needs
2-Phase Expression: Technology mimics baby's natural sucking rhythm faster at first to stimulate milk flow, then slower to feed for more comfortable and efficient pumping
Medela only provide guarantees products that are bought through us the appointed sole distributor or our authorised retailers in Singapore. No warranties nor guarantees will be provided for parallel imported products.
*Only use the power adapter and cable that comes with the breast pump.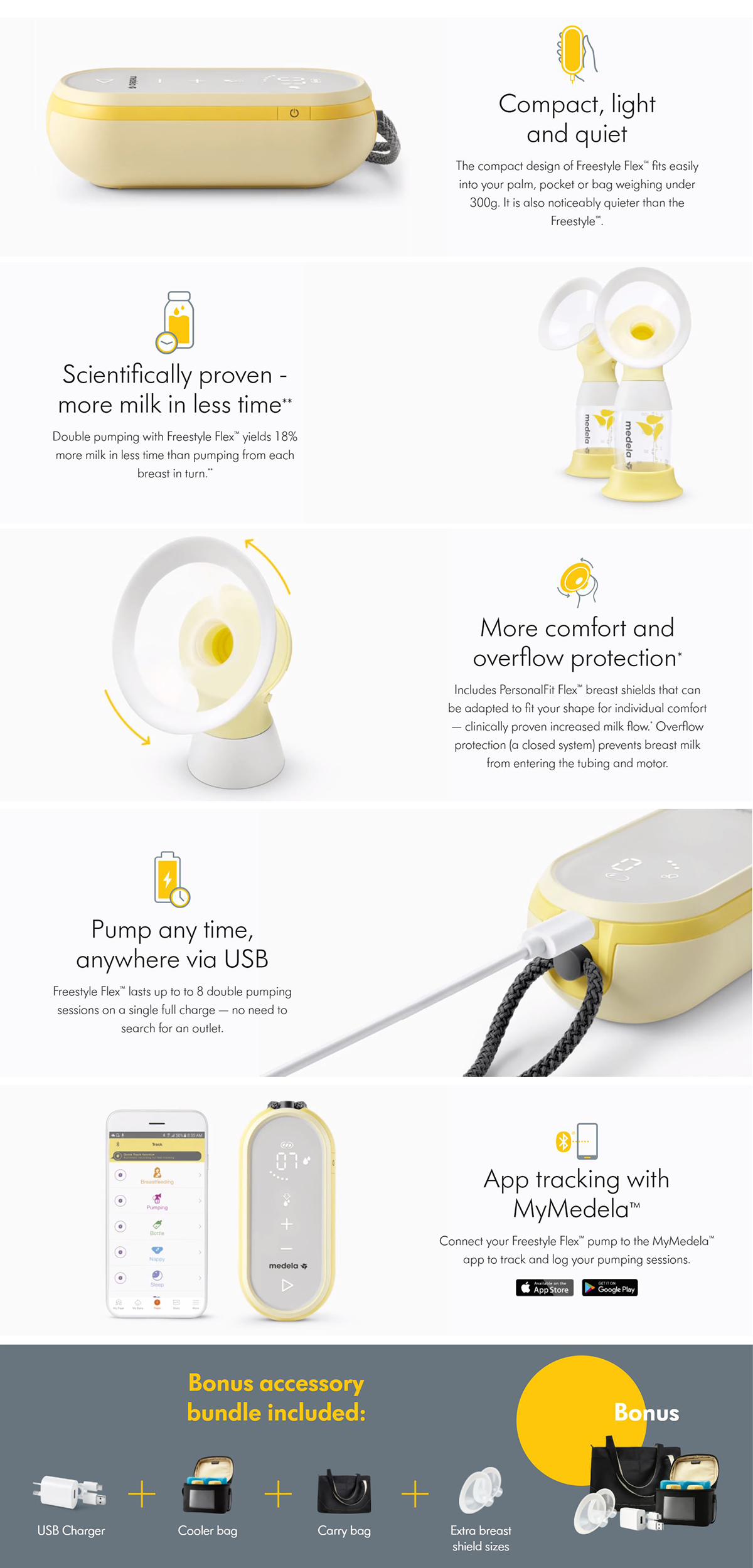 What's in the box
1 x Freestyle Flex double electric breast pump
2 x Medela PersonalFit Flex breast shield size 21 mm
2 x Medela PersonalFit Flex breast shield size 24 mm
2 x Medela PersonalFit Flex connector
1 x tubing
4 x 150 ml breast milk bottle
4 x lid
2 x bottle stand
1 x power adaptor with USB cable
1 x carry bag
1 x cooler with cooler element