Buy a bed, get a free baby cot!
Plan ahead for your child's future with our $149 bed voucher deal! Buy our 892 baby cot at the market-beating price of just $149, and get a free bed voucher worth the same amount. When baby has outgrown the cot and it's time to upgrade to a bigger bed, you can cash in that voucher and save $149, making your baby cot effectively free of charge.
Voucher is valid for any purchase of a Single Bed with Trundle, Queen Bed, King Bed, Bunk Bed, or Tatami Bed.
Simply present your Mummys Market Pre-order invoice containing our $149 voucher at our store to enjoy your discount.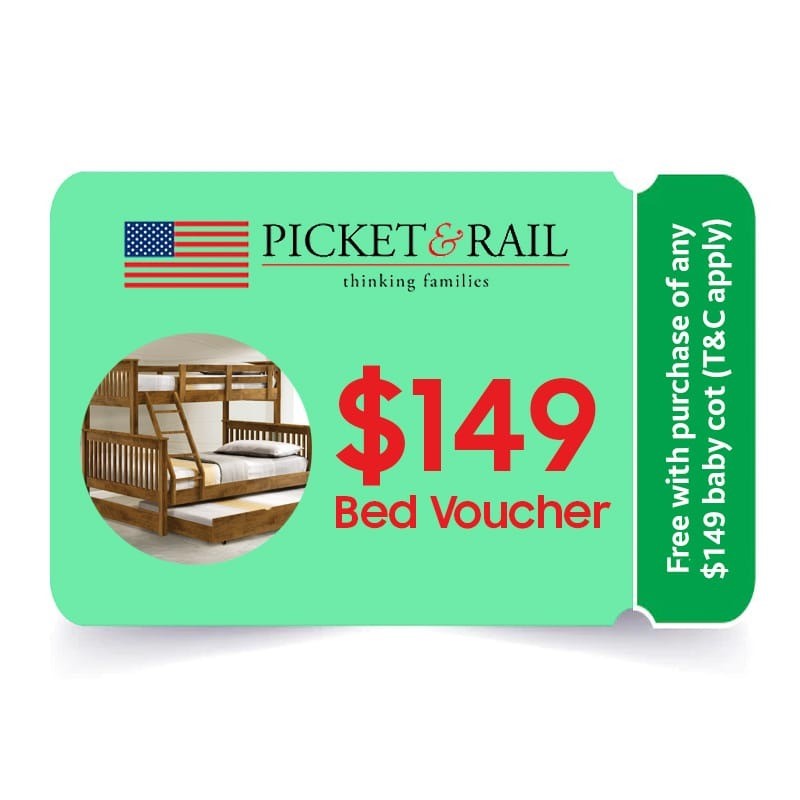 Our award-winning baby cots assures you of the highest quality and design. Over 10 years of experience specializing in solid wood furniture stands us in good stead to ensure the right support level and after-sales service.
Meets British and European safety compliance on standards & regulations. Designed by structural engineers.
6 transformations (baby cot, toddler's bed, co-sleeper, kid's bench, playpen, under-cot storage)
Strong non-toxic teething rails that do not chip easily so your child won't be harmed.
3 adjustable height options for easy access to baby.
Quality wheels with lock option to ensure cot does not move around.
Formaldehyde-free solid hardwood, no off-gassing that will harm your child in the long run.
Let the wood's natural anti-bacterial properties protect your child. Finished with non-toxic baby-safe paint.
Smooth and safe drop-gate/drop-side mechanism. No force needed, simple and easy to use.
Eco-friendly manufacturing standards that helps to reduce our collective carbon footprint.
*Cot installation not included
Product Specifications
Dimensions (HxLxW): 100 x 120 x 60cm
Weight: 11kg