Meet the newest model, uPang Plus LED UV Sterilizer, from Korea's #1 best-selling UV Sterilizer brand, uPang! Combining superior technology with modern and sleek aesthetics, uPang is sure to complement every home interior.
What 's new?
Latest UV-LED technology

- longer lifespan of 5 years, provides maximum power (270-280 nm), with better efficiency in sterilizing

Rotating patented 6 LEDs technology + 3 fixed UV LEDs

- ensures zero dead zones inside the unit

Standby interior lights

- no need to turn on lights even at night

Double doors with voice assist

Seamless dot matrix display

- Shows remaining time & current operation status, makes sterilization easy to monitor
Why uPang?
Fully tested with US FDA certification
Accredited by health organizations in Europe, Australia, Japan, and Korea
Chosen by 8 out of 10 Korean Moms among other UV sterilizer brands
Winner for 9 consecutive years of the Korean Consumer Preference Brand Awards from 2013 to 2019
The first brand to get the European S Mark approval
Features & Benefits:
Eliminates 99.9% germs, bacteria and viruses like Escherichia Coli, Staphylococcus, Salmonella Typhimurium, Pseudomonas Aeruginosa, and H1N1
Rotating patented 6 LEDs technology + 3 fixed UV LEDs
Zero dead zone sterilization
Sterilization as fast as 10 minutes
Ultra-spacious interior
Sterilize almost everything* from baby items to daily essentials (Feeding bottles & containers, teethers, pump parts, toys, face masks & shields, keys, cards, watches, makeups, smartphones & other electronic gadgets except latex items)
Fits an average of 16-25 bottles and accessories depending on bottle size
Easy to use with a simple touch of button
No mess, no spills, no mildew
Glossy, fingerprint-proof exterior
Double doors with voice assist
Detachable outer door
Seamless dot matrix display tells you the remaining time
Standby interior lights
Easy cleaning
Great for home, office, hospital, clinic, hotel, school, and salon use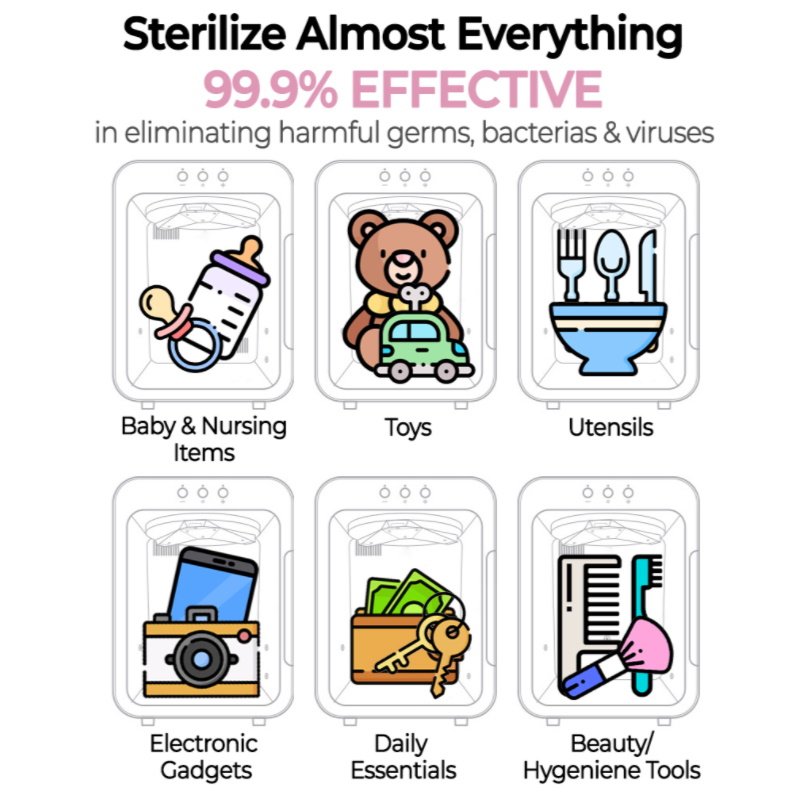 Function Modes:
3 Easy Step Sterilization
Step 1: Put the items to be sterilized inside the unit.
Step 2: Close the inner & outer door.
Step 3: Choose the desired function. Wait till it 's complete!
Package includes: uPang UV Sterilizer (Made In Korea), Stainless Steel Basket, Stainless Steel Shelf, LED Lamps (pre-installed), 3-Pin Singapore Plug (Safety Mark Certified), English User Manual
Warranty: 2 years local warranty upon receipt of item (Coverage excludes wearable parts i.e. UV lights, infrared bulbs)
Exterior Dimension: 32cm (W) x 40cm (D) 45cm (H), Item Weight: 8.3kg, Capacity: Average 16-25 bottles + accessories
Sterilization: 6 + 3 UV-LED Lamps (6 rotating on top, 3 fixed on body)